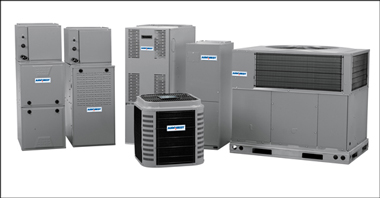 Airquest® furnaces, air conditioners and heat pumps are manufactured by International Comfort Products (ICP). ICP and its product lines are backed by more than a century of dedication to building high-quality heating and cooling systems.
ICP is a part of UTC Climate, Controls & Security, a unit of the United Technologies Corp. (NYSE: UTX), which provides products and services to the aerospace and building industries.
Our Products
Airquest products are made in world-class manufacturing facilities located in the United States, Mexico and Canada. The Airquest product line encompasses a broad line of heating and cooling systems, including:
• Gas furnaces at 80% AFUE
• Condensing gas furnaces at 92% to 98% AFUE.
• High-efficiency oil furnaces.
• Split-system air conditioners from one-and-a-half to five tons, up to 19 SEER.
• Split-system heat pumps from one-and-a-half to five tons, up to 19 SEER.
• Packaged gas/electric units
• Packaged dual fuel systems
• Packaged air conditioners
• Packaged heat pumps
Designed to be Dealer-Friendly
Airquest products are designed for dealers and contractors with a focus on:
• Faster installation,
• Simpler troubleshooting,
• Quicker service and
• Better quality to reduce warranty callbacks.
A Focus on Craftsmanship
At ICP, we take pride in our long history of service to the heating and air conditioning industry. As the company has grown, we have kept our focus on craftsmanship and embraced new technology to make our products more energy efficient, durable, reliable, and easier to install and maintain.
High Standards, Strong Warranties
Because our company was founded on a standard of excellence, our products are manufactured to some of the industry's toughest standards and are covered by some of the strongest warranties in the industry.